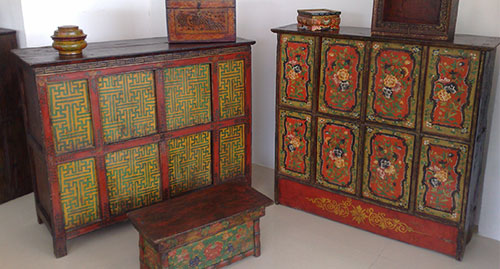 November 7, 2016
Posted by:

tol

Category:

Uncategorized
Among the 20% discount, included also the latest "Tibetan Collection" presents;
1. Tibetan door (right) – Tibetan door panel featuring four lively yaks on an orange colored background.
2. Tibetan Yanggam from eastern Tibet  (left) The yanggam details beautiful gold floral and foliage painting on an orange colored background. A beautiful red colored background border completes this piece.
3. Tibetan folding table (middle) – Yellow floral folding table with a central floral painting surrounded by beautiful foliage paintings on a nice yellow background. The two sides of the table also feature similar floral painting. The border of this folding table is beautifully carved in bamboo style and features simple green foliage patterns on a red background.