Rare and Unique Antique Furniture
Touch Of Life an unique antique shop, has opened the doors to the Hua Hin public and offers one of a kind pieces of antique furniture that is hand pick from various nations in Asia (Tibet, Indonesia, India…). We have had a long history in the antique business around Asia and Europe and we have brought our passion for rare and unique pieces of art to Hua Hin.
Something incredible about all Antique furniture is that every piece has a unique story behind it that we love telling our clients.  Each piece has been involved with, or influenced life in someway.
Most of these pieces are easily over 80 years old and have been hand made, which is what makes them so unique and rare.
Touch Of Life also graciously allows and accepts custom built furniture orders from clients such as Kitchen, Wardrobes…
According to testimonials from our customers, Touch Of Life furnishes homes with a distinctively unique touch and feel that helps add a warm homely feeling to a previously unfurnished villa.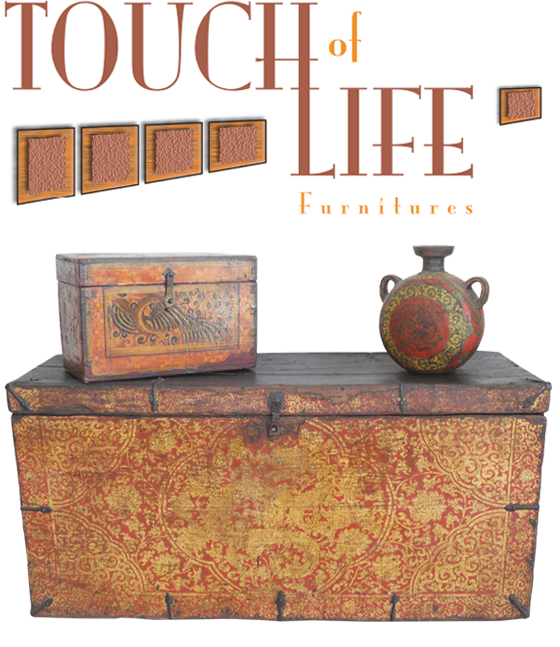 Our Values
Antique Furniture
Rare and unique pieces of furniture! Furniture, may it be ornamental, functional or practical reflects the tastes and style, the way of living of society of a certain period.
House Services
TOL Swiss Management can assist you in very way and making your life in Hua Hin a continuous holiday.
"We don't think in Problems, We think in Solutions!
Hunting Properties
If you are looking for property ? It can be very difficult to know where to start or who to turn to. Save your time and let us do the house hunting for you.
Leadership
We specialize in providing quality hunting leases in Hua-Hin Thailand.
If you are looking for property, we have a solution that might interest you
We will accompany you throughout the whole process.
We have been expatriates ourselves, we know how confusing the first weeks can be and how difficult is to choose and find your new home. Therefore, we are not only showing you properties but also informing you about the surrounding environment and amenities: schools, transport, local shops, etc.  We can advise the property that suit you the most according to your individual needs.
Contact us to find out how we can help you find your new home.
We take great pride in offering only the best. To find your perfect property it takes two things. Time and money.
About "Touch of Life"
"Touch Of Life", run under Swiss management, design and acquire a manner of different furniture pieces according to the customers' desires. They can be contracted to create beds, tables, chairs and etc., according to the design that customer chooses and the company creates the pieces using, as its source, old and refurbished teak wood that has been reclaimed from other antique pieces and which "Touch of Life" personally guarantees its quality.
TOL Swiss Management can assist you in very way and making your life in Hua Hin a continuous holiday
Our Services Include:
» House Maintenance
» Gardening
» Pool Cleaning
» House Cleaning
» Construction work